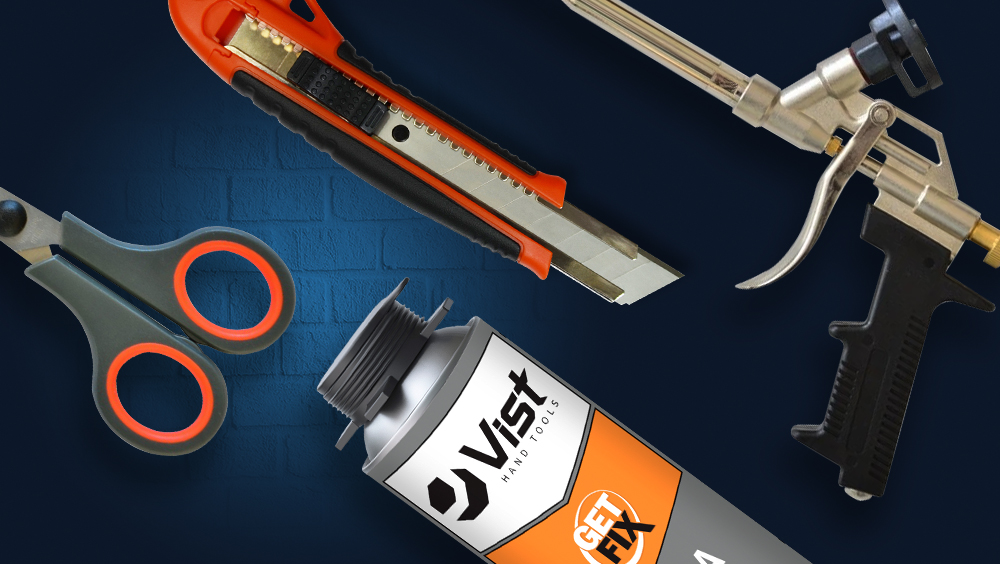 The New-vist site offers a wide range of construction and consumables for repair and complex construction.
During many years of existence on the Ukrainian market of hand tools and building materials, we improve production technologies, increase the range, carefully monitor the quality and price, confidently walk with you through many construction sites.
We produce and supply quality building materials that will provide the best result of any repair or construction.
That is why New-vist is the most attractive and one of the well-known suppliers on the Ukrainian market.
At this point, we can offer the following materials:
Tapes, grids;
Scotch tapes;
Isolation tapes, fume tapes;
Sealants;
Awnings;
Bags;
Films;
Sealant guns;
Foam guns;
Welding wire and electrodes;
Mounting foams;
Acrylic sealants;
Silicone sealants;
Mounting adhesives;
Knives;
Scissors
etc.
In the catalog of our website you can pick up a full arsenal of necessary high-quality means for repair and construction works of any type.
Adhesive tape has long been in use, and are used not only for industrial purposes for which it was invented, but also as widely used in everyday life, as an indispensable consumable painting plaster tool, the most popular packaging material or as a protective material for painting and repair work.
The sealant is a self-adhesive tape used in metal, wood and plastic structures. When gluing window and door structures, it reliably protects the room from temperature differences, cold, wind, humidity, dust and noise etc.
This is a tape on an adhesive basis, wound in a roll, designed to insulate electrical wires and cables. The main purpose of the insulating tape is to provide voltage insulation and prevent injuries through bare wire.
The awning is a multipurpose protective means used for a shelter during construction works; also as a prevention of deterioration of designs, due to the open air; for canopies in trucks; for floorings and other purposes. Tarpaulin awning is made of polypropylene of different density, very light, strong and durable.
These bags are used both in construction and in the food industry, used for storage or transportation of bulk food, construction mixtures, construction waste, fertilizers and other products.
Guns for silicone provide a uniform supply of material, without excessive leakage of substance. That's why the work is carried out cleanly, neatly, and at the same time, economically optimal. used glue or other sealant. The construction gun for sealants can be used not only for work with tight materials, but also with liquid nails.
The foam gun will help to perform work with the use of a cylinder as efficiently and quickly as possible. The function of the gun is the exact dosage of the composition and getting into a certain cavity, especially if it is narrow, deep and in a hard-to-reach place; also achieving a high-quality and smooth seam; increasing the service life of the material etc.
Heat gun – a hand-held power tool for applying hot melt adhesive by melting the adhesive rod, which is heated to a certain temperature required for operation. Pistol rods are between seven and eleven millimeters in diameter. The parts are fastened with a soft solder, which is heated to a liquid state.
Acrylic sealant is a one-component composition based on acrylic dispersion, a special substance based on polymers. Acrylic does not contain any solvents, so this composition is completely harmless and environmentally friendly. It is used for sealing seams and joints, window and door boxes, filling cracks in plaster or brickwork, concrete, wooden structures etc.
The silicone sealant is universal, used for filling of cracks in walls, finishing of seams in facing coverings inside and outside the houses, carrying out repair work in bathrooms and kitchens, sealing of freezers, consolidation of ventilating systems.
The sanitary sealant is intended for sealing of cracks around bathtubs and shower cabins, sinks, toilet bowls, finishing of seams in bathrooms and kitchens. Also suitable for ceramic, faience and glass surfaces.
Neutral silicone sealant intended for installation of glass in wooden, aluminum, PVC frames, for sealing seams on facades, window sills, joints between window frames, doors and walls, as well as gluing plinths etc.
Mounting foam is designed for installation and sealing of windows, door frames, filling cavities, joints and seams, installation of wiring and water pipes. Can be formed and painted.
Glue "Liquid nails", universal glue "Master Drago".
Using products purchased in the New-vist store, you can be sure of their quality, reliability and durability. Our company offers any buyer to buy goods at an affordable price in bulk.
There are knives in our range with blades from 9 to 25 mm, there also is an opportunity to buy. The presented knives in the company's range are used in preparatory work, for cutting wallpaper, paper, thin cardboard and other non-solid materials.
Cutting, kitchen, haircut scissors and household ones – our range. Using products purchased in the New-vist store you can be sure of their quality, reliability and durability. Our company offers any buyer to buy goods at an affordable price in bulk.