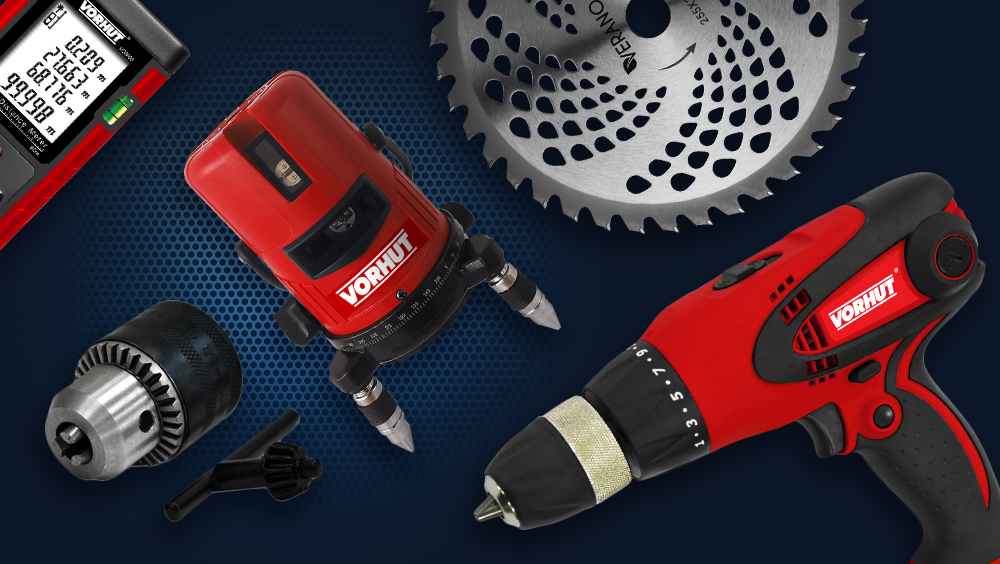 In modern construction and repair, power tools play one of the most important roles. Most construction works require a reliable tool for timely, high-quality and safe tasks. The verified and inexpensive electric tool in our New-vist shop includes the following goods:
Drills and perforators
Concrete mixers
Grinding machines
Jigsaws and circular saws
Screwdrivers
Welding inverters
Power tools for the garden
Accessories for power tools
Power tool accessories
Before buying a power tool, you need to determine with what load, scope of work and for what purposes it will be used. If you are closely involved in construction – you should consider the professional segment, which is designed for large resources and workload, if you are considering a tool for small repairs – a household tool is suitable. In any case, detailed reviews and tests of our power tool will help you decide more precisely on the choice.
The cordless tool presented by TM VORHUT will become the irreplaceable assistant both for the household user, and for the professional builder.
The voltage of the subcategory batteries is 12 and 20V.
A feature of 20V batteries is the ability to use the same batteries for different types of tools:
– Screwdriver
– Bulgarian
– Hammer
– Jigsaw
Our range includes a wide range of tools for construction, repair, production, home and cottage at relatively low prices with excellent quality.
The main brands of our power tool are: VERANO and VORHUT.
New-vist petrol tool (tools on the petrol drive)
Tools that run on fuels and lubricants (gasoline, diesel fuel, etc.) have become indispensable assistants in construction, repair, in the country, gardening, manufacturing, etc.
Reliable and inexpensive gasoline tools presented in the New-vist catalog:
Gasoline chainsaws
Trimmer (motokosa)
Pick the right chainsaws, mowers and provide professional advice – our managers will always help you. Also, they actively test and regularly present video reviews of the gasoline tool.
The main brand of this category is VERANO.
Our catalogue presents a large selection of high quality power tools and at affordable prices of the VORHUT brand. In the range: the drill screwdriver network; percussion drill; perforator.
Drills, according to the possibilities of working with materials, are divided into: shock and shockless. There are also two varieties by type of engine location: with vertical or horizontal arrangement.
Angle grinder machine  – or just angle grinder – is a universal power tool used for cutting with great precision and cleanliness of the cut, cutting strobes, alignment and cleaning of seams, removal of rust and paints and more. AGM is suitable for working with such materials as wood, metal, concrete, stone, ceramic tiles, plastic and metal pipes.
In this section we offer you to get acquainted with the saw power tool, such as an electric jigsaw or a circular saw.
In our range: the eccentric grinder; electric plane; circular saw; combing saw; electric jigsaws; multifunctional tool; multifunctional tool with nozzles.
The petrol trimmer is intended for fast and effective trimming of grass on average garden areas.
The chain saw considerably facilitates work at sawing of heavy bars and accelerate process.
If you are worried about frequent power outages, pay attention to the generators presented in our range.
The motor pump is used when it is necessary to pump out water from a reservoir, when filling pools, at fire extinguishing, watering and construction.
The range of the New-vist store has everything you need: high-quality and practical equipment for mowing the grass, weed control, care for greenery, sawing trees, logs and much more. New-vist offers you such brands as VERANO and TECHNICS.
The power tool presented in the New-vist store is developed for professional and semi-professional use during carrying out repair and construction works. In this section you can buy accessories and consumables for power tools.
In this section you will be able to find the specialized tool of TM VORHUT and TECHNICS: laser levels; laser rangefinders; industrial hair dryer; soldering iron for plastic pipes.
In this section you will be able to find the petrol tool of the VERANO trademark: the petrol trimmer; gasoline chainsaw; generators with a gasoline engine; motor pumps.
The range includes a series of universal compressors with a receiver volume of 24 and 50 liters.
These compressors will be most suitable for household tasks such as blowing, pumping wheels, as well as for small painting work.