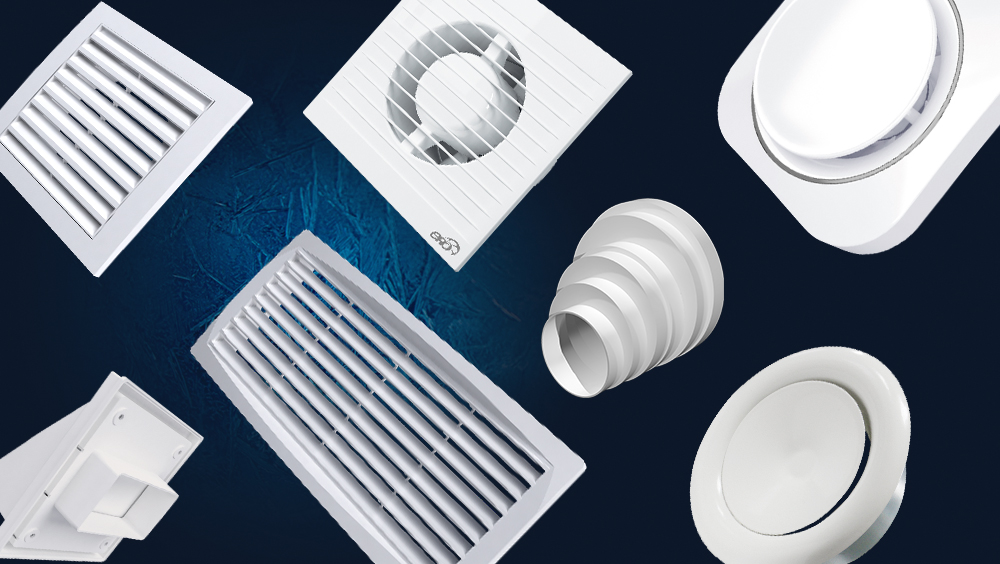 Ventilation – a guarantee of fresh air, we always need! However, new energy efficiency standards of buildings, technologies and innovative construction materials have led to almost absolute isolation of any modern room. In such conditions, the only way out is the competent design of ventilation systems. On the New-Vist website you will find many current solutions in the field of ventilation, which will create the most comfortable environment in the room of any size and purpose.
New-Vist offers a huge range of products such as ventilation lattices, so you can choose not only the desired shape or size, but also colour and material. Ventilation lattices are made of high quality plastic and metal that does not turn yellow over time, does not deform, and it is easy to make a variety of sizes and shapes, thanks to the material. Our consultants will help you choose all the necessary components for ventilation systems for both residential and industrial premises of high quality at affordable prices.
The New-Vist catalogue presents shaped round parts – air ducts of different diameters and lengths, connectors, round channel holders, 90- and 45-degree bends, tees. They are used to create supply and exhaust ventilation systems for small and medium-sized rooms, to connect exhaust and ventilation equipment. The main advantage in the use of round air ducts and components is the ease of installation, noise reduction, wide temperature range, operation, a large selection of sizes and denominations.
The flexible air duct is corrugated for use in systems of household ventilation, channels of the gas pipeline of household water heating columns, kitchen hoods, and ventilation channels. There are air ducts with a diameter of 80 millimetres – up to 150 millimetres, up to 3 meters long. For the organization of supply and exhaust ventilation systems, flexible air ducts on the frame are used, such air ducts have a high density coefficient and can withstand temperatures from -30 to 100 degrees. Presented in diameters from 100 millimetres – up to 150 millimetres, length from 1 meter – up to 6 meters.
On the New-Vist website, you can find sanitary hatches, inspection hatches, which are intended for access to the closed knots of sanitary communications. It is possible to establish both in a wall, and in a ceiling, by means of a solution or glue. Thanks to high-quality plastic, these hatches can be used in humid rooms, the material is resistant to ultraviolet light, can withstand temperature changes from -80 to +120 C. For ease of use are equipped with a handle or push mechanism. If you need natural ventilation, we recommend choosing a universal dual-purpose product: a hatch and ventilation lattices at the same time: "Decofot".
This is the household fan for ventilation and airing rooms of various function, from bathrooms and kitchens to bedrooms. Axial exhaust fan – the most common type of exhaust ventilation devices. They are made in a modern design, have a variety of front panels, designed for permanent or periodic ventilation of domestic premises. For convenience, we recommend paying attention to the exhaust fan with a timer. Fastening of the equipment is carried out both wall, and ceiling, is mounted in a ventilating shaft, or through an air duct.
Axial duct fans have a cylindrical body, inside which are the blades, and are mounted on the axis of the electric motor. The company's range includes fans with a capacity of 16 watts. Axial fans move air almost silently. Radial fans operate by rotating the wheel. They differ from all fans in versatility and compactness. Centrifugal fans have a low noise level and high power. Perfect for small spaces.
The main task of exhaust lattices is to remove small dust particles, maintain indoor air velocity, as well as uniformity of temperature. Similarly, the lattices can be used for decorative design of the outlets of ventilation systems. Round lattices in the company's range are in diameters from 100 to 165 mm. Square gratings in the New-Vist catalogue are from 150*150 mm to 350*350 mm. Ventilation lattices are used for supply, exhaust ventilation, air conditioning and air heating systems. The lattices have inclined blinds. Can be fastened both on a wall, and on a ceiling by means of screws, glue, about a flange clamp. Also, thanks to the mounting flange, it simply connects to the round air ducts. You can easily remove the lattice for maintenance.
Face platform, made from plastic, with a lattice and a flange is used for registration of ventilating apertures and connection of air ducts; for wall or ceiling mounting. The connection is made directly to the ducts of the appropriate diameter. Additional ventilation lattice to provide natural extraction in rooms with gas equipment. Deviator to ensure backflow through the lower ventilation lattices.
In the range of the New-Vist catalogue, you will find: ceiling diffusers, round, with a flange; the supply and exhaust diffuser, adjustable, without flange and with a flange. The ceiling diffuser with a flange is used for supply, exhaust systems of ventilation, conditioning and air heating. It has a protective net against insects and an aerodynamic valve. Fastened with screws. The range includes sizes from 100 mm to 150 mm in diameter. The adjustable supply and exhaust diffuser without flange is used for supply, exhaust systems of ventilation, conditioning and air heating. It regulates the air by rotating the central part of the valve, installed in suspended ceilings or walls.
In the New-Vist catalogue you will find: air ducts, fasteners, connectors, bend for straight channels, tees. The PVC direct air duct is used for creation of supply, exhaust systems of ventilation. Presented product is connected by means of connectors of the corresponding section in length from 0,5 m to 2 m. The holder of direct channels is used for fastening of air ducts of the corresponding section to a mounting surface. Straight channel connectors come with a non-return valve. This product is used to connect rectangular channels of the same size, equipped with a valve for protection against back draft.
In the catalogue of the New-Vist website you will find: direct and round channels connector; eccentric round channels adapter; direct-channel-to-round-duct connector; central universal adapter; central reducer of round and straight channels. The direct-channel-to-round-duct connector is used to connect to air distributors or round ducts at an angle of 90 degrees. This part is connected to rectangular ducts with a flange, and with round through a connector of appropriate diameter. The eccentric adapter is used in supply and exhaust ventilation systems to connect air ducts of different diameters with each other without additional elements.