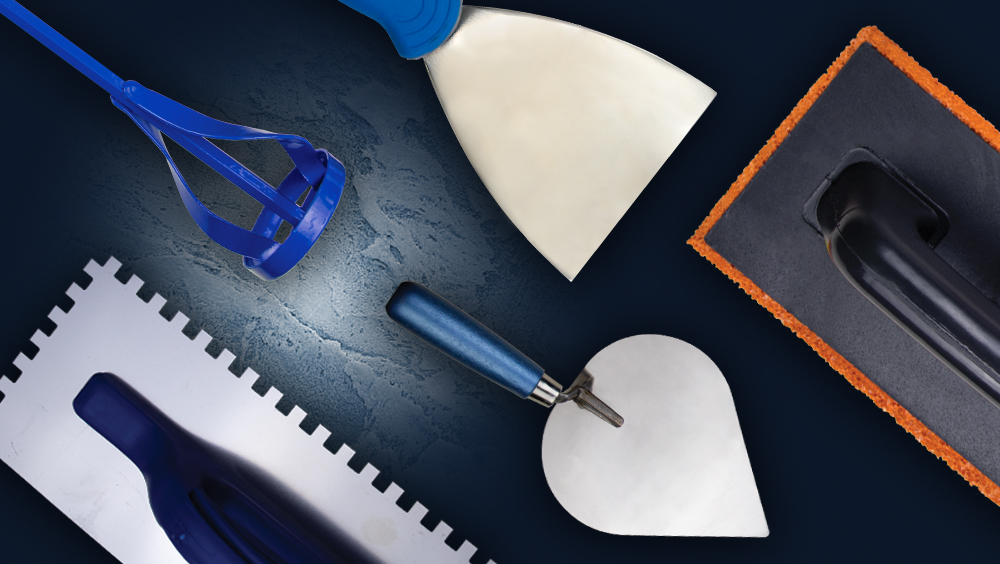 A perfect repair or construction always needs a professional tool and plastering has never been an exception to this rule.
The right choice of tools for a specialist is able to help in getting their job done in a short time and save material, show the perfect result.
Plastering works require three types of tools:
To prepare walls (surfaces);
To place the material, apply it and level it;
Auxiliary building materials (basins, buckets etc.)
The New-vist website presents a wide range of plaster tools, namely:
trowels
rules
spatulas
graters
mixers
scrapers
other plaster tools
FAVORIT and COLORADO are leaders in the Ukrainian market among reliable and at the same time affordable plaster tools
Graters will help you to prepare walls for facing work, make them smooth.
If you need to apply a layer of putty or plaster on small areas or in a hard-to-reach place, choose a narrow or medium spatula with a steel blade from 20 to 150 mm. The spatula from 150 mm to 600 mm is used for drawing putty or plaster for the big planes, you may also call them front spatulas. Rubber spatulas are used for grouting, in working with sealants, for forming seams of wall tiles and brickwork, in removing excess material etc. Clamping spatulas are made of high-quality plastic, designed for pressing and smoothing wallpaper.
This is a hand tool, made in the form of a spatula, of steel cloth or stainless steel. The handles are made of wood or rubber. The main function of this hand tool is the application of plaster and adhesive mixtures on the surface and subsequent leveling.
With the construction mixer you can quickly and easily mix multi-component compositions of construction mixtures, paints, putties, plasters, and other building materials.
Scrapers come with removable blades and cast. Spare blades are made of carbon steel and are sold in packs of 10. Steel on such scrapers is used thick and strong, so they will last longer. Such scraper is intended for a lining and cleaning of seams when carrying out works with laying of a tile or a decorative stone.
The rules are presented in the New-vist catalog, are made of high-quality, non-corrosive aluminum, light, strong and easy to work with. The thickness of the profile is 1.2 mm, inside the rule is hollow, but has stiffening ribs. Plastic plugs are provided at the ends so that plaster mortars, cement and other construction mixtures do not fall into the profile of the rule.
Sprayer of construction mixes, a spare element to it,  lining construction, а hook for knitting of armature – other plaster tool.