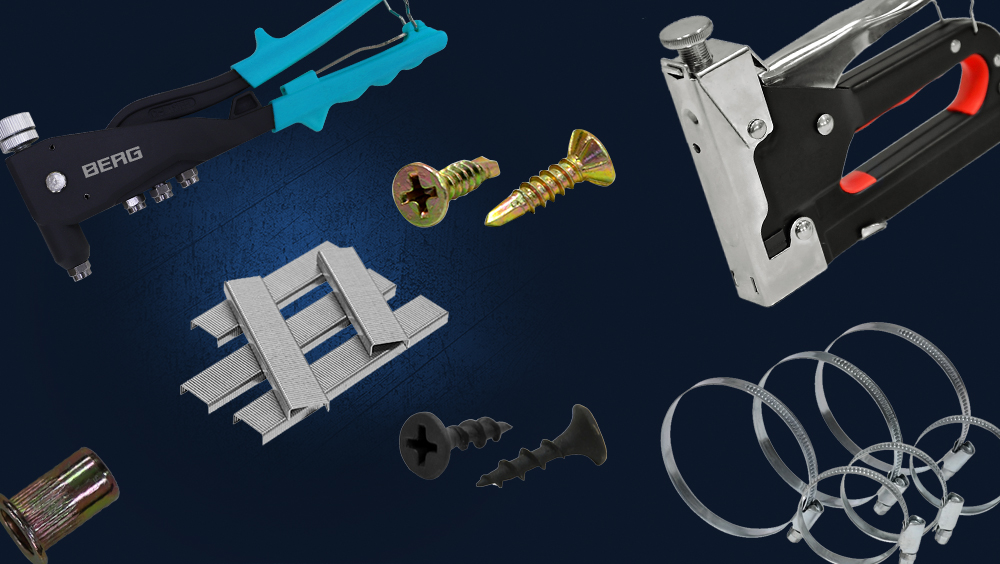 Fastening tool is a device designed for reliable connection of parts and components of the structure when performing repair and finishing works in construction, mechanical engineering, furniture production, car service and other areas of activity. Application of the similar tool allows to use various types of fastenings, reduces complexity of operations, increases labor productivity and provides high-quality performance of works.
Bolts, nails, screws, self-tapping screws, studs, glue, mounting foam and others are used as fastening material.
Our range includes a wide range of tools for construction, repair, production, home and cottage at relatively low prices with excellent quality.
The main brands of our power tool are: TECHNICS, BERG.
The stapler has a metal body and easy charging of staples, it also has a screw to adjust the force of impact, which ensures flawless performance, and, with the help of a little window in it, you can also easily check the presence of staples in the stapler. This device is usuallu used to fasten the material with staples to wood, chipboard, plastic and other surfaces. Brackets, by the way, are, in most cases, curved in the form of an arc or the letter П strip of metal, which is attached in any way depending on its purpose.
The construction bracket is a forged product. Forged brackets are better than self-tapping screws, nails or an ordinary screws when working with large wooden structures in many respects. Moreover, they have a larger area of adhesion. Fastening by means of a construction bracket is used even at construction of a framework of roofs.
Any construction and repair work will not do without the need to connect any parts, products, metal sheets, etc. For this purpose in the New-Vist range of goods you will always find the most suitable construction tool: the riveting gun is suitable for household and professional repair work, and riveters happen mechanical, electric and pneumohydraulic riveters. Riveters are used with aluminum rivets to fasten materials such as metal sheets, plastic, plywood and others.
Cable ties, clamps, steel couplers, power couplers presented in the range. Mounting plastic clamps which differ in width and length, diameter of a girth and durability are offered to your attention. Moreover, galvanized clamps represent the perforated tape and the screw intended for work in rooms with low level of humidity, and are suitable for a hose which has loading by thermal tension.
Hardware TM TECHNICS are made of hardened steel, have a secret head and a sharp tip. For installation of a soft roof or a metal tile the most popular fastening is a roofing self-tapping screw: a core with a knurled carving and a hexagonal head, has a shaft executed in the form of a drill (thanks to what reliable fastening is carried out, and a flat washer with a rubber lining promotes the increased sealing).
These bolts can be used in construction, mechanical engineering, as well as in industrial and manufacturing industries using washers and nuts of appropriate sizes. Bolts are made of carbon steel with a zinc covering.
This type of product is a spacer fastening element of the connector, which can be used both for fastening construction elements and for attaching thermal insulation and cladding materials.
Chains are widely used during construction, trucking works; have wide application in warehouses in production shops, can be used in the industrial and transport organizations (more often this goods are suitable for a suspension bracket of a hook in system of the load-lifting mechanism), etc. Chains of TM are galvanized, consist of the steel oval links fastened among themselves by one welding seam.
In the catalogue you will be able to find: lanyards, cable clamps, thimbles, carbines, rigging brackets, and also eye bolts. The lanyard is designed to adjust the tension between two ropes, as well as to change their length, because it is two screws with multidirectional threads, screwed into the ring, equipped with two parallel threaded holes and rings that engage with the cable ring. The hook placed on a lanyard provides gearing with rings of cables. Cable clamps are presented in the company's range in two types: single and double. This product is intended for connecting cables to each other and for making loops at the ends of the cable.